Income certificate is one of the most important documents required for many purposes like – College admission, Job interview, For various scholarships and make Official documents like Economically weaker sections section certificate. So in todays article we will discuss how you can make your Income Certificate online in Assam.
Impotance of Income Certificate :
Income certificate is an important document issued to Indian citizens which works as a valid certificate for a person's annual income. Income certificate is used for various purposes some of are mentioned below :
Income certificate is an essential document used to benefit from various civic welfare schemes.
Eligible engineering students can provide an income certificate for fee-reimbursement.
Students who wish to avail scholarships have to apply for income certificate every year.
Income Certificate is helpfull for Students for availing free admission in various government colleges & institutions.
Agriculture Income Certificate is helpful for obtaining loans in banks.
Income certificate is also used to make other documents like Economically weaker sections certificate, Below poverty line ( BPL) Certificate etc..
Providing relief to victims of various natural calamities and disasters.
Availment of medical benefits like free or concessional treatment, subsidized medicines, financial assistance to mothers who give birth to girl child, etc.
What is the Eligibility Criteria for make income certificate in Assam ?
Applicant should be citizen of India. And have a valid address proff certificate.
Documents Required to make income certificate in Assam :
Scanned Application form
Address proof
Identity proof
Salary slip (if employed)
Land revenue receipt (on verification by LM in case of farmer).
Any Other documents (Any voter list, Gaon Burah Certificate, Land Revenue Payment Receipt,etc.).
Upto date land revenue paid receipt for 3(three) years.
Note : Before starting the online registration process download the Income Certificate format from the Important links below & take a printout of that application form and fill up all details and scanned it and make a soft copy which you have to upload during the online application process.
Application mode & Application fee :
The Application mode is completely online basis. No offline forms is acsepted. For the Income Certificate you have to pay Rs 30 rupess + other charges.
How to apply for income certificate in Assam?
You can simply go to a common service center and approach them they will do all the procedure. If you want to do it yourself then follow this instructions.
Go to the online e district portal and register yourself using email address and mobile number.
After the registration go to the login page and enter your email address and display name.
After the login look for 'Apply for income certificate' or such similar terms.
This will open up a online application form
Before starting the online application process make sure that all the required documents are ready to upload.
Now enter all the details and upload all the documents.
And click on the submit button.
After that you will be redirected to Payment form page click on the pay online option.
Now pay the amount via debit/credit card or net banking after the successful payment you will receive a payment receipt.
Print the payment receipt for future reference.
After the payment you will get a SMS from edistrict portal consists your Application number. Application number is use for tracking your online form status.
How to check my income certificate status ?
After the submission of the online application you will get a Application number which is use to track your application status.
To check your application status Go to e district portal.
Enter the application number and click on the check status button.
This is how you can check the application status.
How to download the income certificate online ?
When you submit your online application form it will take upto 7-14 working days for the certificate verification and generation. After the successful verification you will receive a SMS. Now you can allowed to download your income certificate. To download your income certificate follow these instructions :
Go to the edistrict portal or you can also download sugam app.
Now You will see a option to check your online application form.
Enter your application number and click on the check status button.
After this if your form is verified then you will se Download income certificate button.
Click on the download button thats all your Income Certificate is successfully downloaded. Take a printout of that certificate and avail all the benifits.
Income certificate sample image preview :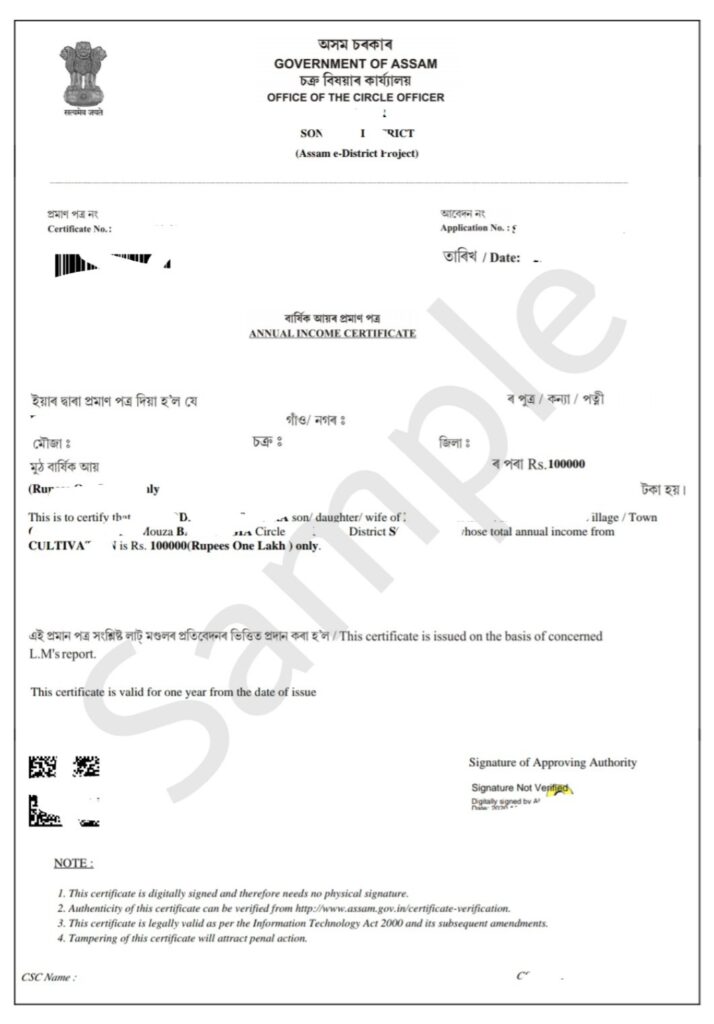 Important links for Income Certificate :
How to make income certificate online video preview :
Frequently asked questions about Income Certificate :
Whom to contact for any issues related to income certificate?
For any issues related to income certificate contact your respective circle officer or lat mandal.
What to do if my certificate shows signature not verified?
This is the most common dought that many people have. To fix this issue you just have a adobe Pdf viewer application on your computer. If you download it in your mobile phone then just go to a Common service center ( CSC ) and asked them to take a print out of your pdf.
What is the validity of Income Certificate?
Income certificate is valid for one year. After that you have apply it again.